Patent Pending 2.8 Kw S-Band GaN Solid-State Pulsed High-Power Amplifier
Why this SSHPA is so Cool!
HIGH POWER – 2.8 Kw
MINIMAL HEAT – No Heat Sinks – No Fans
SMALL LIGHT PACKAGE
MODULAR DESIGN
Highest power in the market space – 2.8 Kw in a single module
Energy dense…one brick can support a weather radar
Generates minimal heat
No external heat sinks or fans are required
Optimal Small Size:  2.250H  12.500W  12.225D
Optimal Light Weight: 13.1 Lbs/5.95 Kg
Heat generation and dissipation has always been a vexing problem in SSHPA technology. This  patent pending Cool SSHPA is truly industry changing. Utilizing proprietary patent pending techniques, WDS has produced the first Cool SSHPA  – no heat sinks or fans required.  Without bulky heavy heat sinks or fans, we have been able to design an SSHPA that is small in size and light weight making it deal for both airborne and ground-based systems.
Versatile modular architecture easily supports straightforward combining for higher peak power requirements. All models are designed with the latest highly efficient Gallium Nitride components and can be configured to meet various size and power requirements.
Typical RF input level is 0 dBm so no additional external pre-amp is required. Pulsed applications focus on lower S-Band and C-Band. Common 50-volt DC input voltages are standard on all models. Standard operational duty cycle is 10% with pulse widths as high as 300 micro-seconds depending on configuration. On-board monitoring of temperature, current, and duty cycle provide protection in harsh environmental situations. Status monitoring is provided via Ethernet as a standard interface. RF output is a standard type 7/16 Din female connector.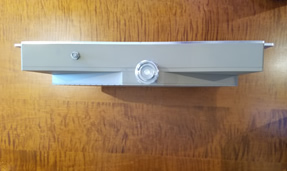 Low Vertical Profile 2.2″ High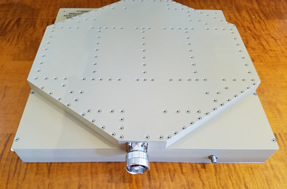 High Power Density Compact Design
12.2D 12.5W 13.1 Lbs
Key Important Features
Phase combinable to meet hight power requirements
Minimal primary power requirement
Highly-efficient Galium Nitride components GaN
Low phase-noise
Additional external pre-amp not required
On-board temperature monitoring
Easy to mount
RF components with an MTBF greater than 140,000 hours
Amplifier specifically designed for custom wave forms – LFM, NLFM (pulse compression)
Coherent driver for phased-array radar
Applications: Radar, ECM, EW, Ground and Airborne
Weather Detection Systems, Inc.  |  Evergreen, CO  |  303-679-3167 T  |  720-837-9468 M